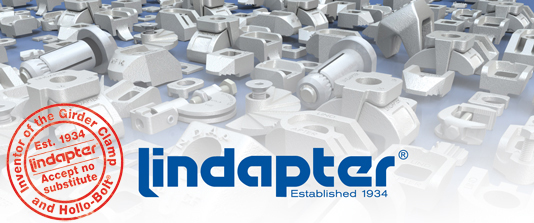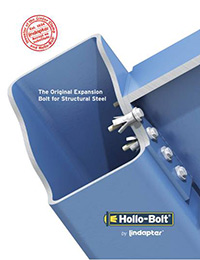 For more than 80 years, Lindapter has earned a respected reputation as the inventor and pioneer of steelwork clamping systems, providing an independently approved and exclusive product range of steelwork connection, cavity connections, service supports and floor fasteners.
Whether joining primary structural sections, securing secondary beams or suspending building services, Lindapter has a proven, accredited solution.
Benefits of Lindapter
The Lindapter brand embodies a unique concept creating fundamental advantages over traditional welding or drilling, including the significant reduction in installation time and associated labour costs, on-site adjustability and the preservation of steelwork integrity and protective coatings.
Support and Solutions
Experienced engineers offer an unrivalled support service, including free design and custom new product development. Lindapter solutions are utilised in multiple markets such as plant engineering, petro-chemical, offshore, materials handling and structural & civil engineering.
Lindapter has manufactured to the highest standard for over three quarters of a century, earning a multitude of independent approvals and a reputation synonymous with safety and reliability. Current accreditations awarded by international associations include Lloyds Register, TÜV NORD, Deutsches Institut für Bautechnik and Det Norske Veritas.
Where Lindapter Is Used
Lindapter is specified on countless projects across the globe from the Antarctic to the Caribbean, in diverse applications as varied as the London Tower Bridge, Target Field Ballpark, Dubai Shopping Mall and Gautrain Rapid Rail Link.
Shop Lindapter Online
All of the Lindapter Steel Connections product sold in Canada and the USA is now handled by our sister company UCC Steelwork Connections Inc (www.uccsteelworks.com).   UCC Steelwork Connections Inc is proud to have locations in Pickering ON, Syracuse NY, and Tampa FL.  Please visit our website for more information, including our on-line Lindapter store, the first dedicated Lindapter on-line store in the world.