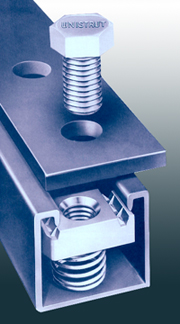 The Unistrut Central Division has been the traditional heart and soul of this company since it was formed as Unistrut Central Canada in 1983.  When we purchased the company in 1995, and changed the name to simply Unistrut Central, Unistrut and Hydra-Zorb were the only two product lines that we sold.  Our growth between 1995 and 2006 into new and exciting products and services necessitated a name change.  Therefore, on January 1st, 2007, we officially became known as UCC Industries International Inc.
Unistrut
Unistrut is the world's "original metal framing system", developed in 1924 by Charles Atwood, of Chatham Ontario.  Manufactured in Wayne Michigan USA for 90 years, Unistrut has continued to be the industry leader in the industrial and commercial construction market, and has set the standard for product design, quality and performance.  The initial Unistrut concept, a simple spring nut and bolt connecting a fitting to a continuously slotted channel, has evolved into a comprehensive engineered building and support system.  Our Pickering ON location always has high stock levels, and we offer next day delivery on most items.  UCC Industries International Inc is proud to offer Unistrut Metal Framing throughout southern and eastern Ontario.
PHD Manufacturing
PHD Manufacturing (Pride, Honesty, Dedication), is an Ohio USA based company, in business since 1972.  PHD now offers a very comprehensive line of North American made strut, fittings, pipe clamps and spring nuts that caters to the electrical, mechanical and plumbing trades throughout the USA.  UCC Industries International Inc is proud to have established ties with this company since May 2014 as it will allow us to better service these markets than we have been able to in the past.  UCC Industries International Inc is proud to represent the PHD Product line throughout all of Eastern Canada (ON, QC, NB, NS, PE, and NF).
Hydra-Zorb
Hydra-Zorb has been the leader in strut mounted cushioned insert clams for over 40 years, offering a wide variety of solutions when shock, vibration, and corrosion are a problem.  As the originator of the cushion clamp assembly, Hydra-Zorb is the name to request in the fluid power, pneumatic, refrigeration, and HVAC industries.  UCC Industries International Inc is also proud to represent Hydra-Zorb throughout Ontario